SCQHA Queen
2021 SCQHA Queen - Sarah Beth Felker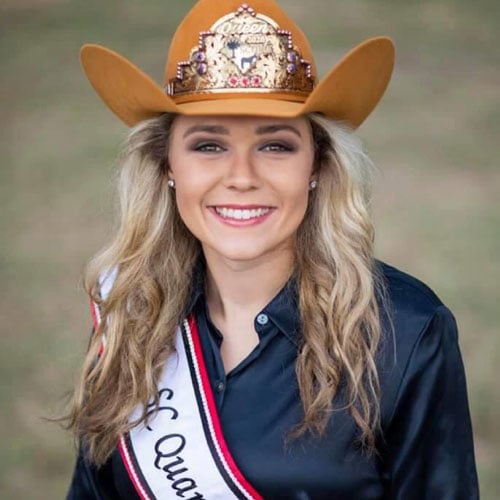 I have the privilege of representing the South Carolina Quarter Horse Association as the 2021 SCQHA Queen. Growing up in Cross, South Carolina on my family's farm sets the background for my equine career. At 21 years old, I have been riding for almost seventeen years. My horse show career began in 2007 in the Small Fry division at the South Carolina Quarter Horse Association shows.
The SCQHA and AQHA have always been a big part of my life, and I have been an active member for almost fourteen years now. Throughout my youth career, I had the opportunity to compete with the South Carolina Quarter Horse Youth Association at multiple National Youth Activities Team Tournaments (NYATT) at the Quarter Horse Congress as well as acting as SCQHYA's Secretary/Treasurer for two years and President the following three years. My experiences with the SCQHYA have helped mold me into the person that I am today. The association has challenged me to grow as an individual, and in turn, the confidence I have in myself as a leader, team member and spokesperson for the SCQHA has grown tremendously. As a Congress Queen Contest contestant, my goal is to continue to grow as leader and to be a positive influence and role model to all youth members. The AQHYA members are the future of the industry, and my goal is to educate, encourage, and empower as many youth members as possible during my time as the SCQHA Queen and beyond.
My experience with the AQHA also helped lead me to St. Andrews University. I am currently a Senior in the Honors College where I am a double major in Biology Pre-Veterinary Science with a Specialization in Equine Science and Business Administration with a specialization in Equine Business Management. I proudly ride on the Intercollegiate Horse Show Association (IHSA) Western Team as an Open division rider, which is the highest level of competition, as well as competing on the Hunter Seat and Dressage teams. I work part-time as a veterinary assistant, and in my free time, I enjoy volunteering at the Scotland County Humane Society and the local Ride Like a Knight Therapeutic Horsemanship program which helps special needs children and veterans increase their flexibility and balance, raise confidence, and enhance social skills. It would be a dream come true to one day establish a Nonprofit Therapeutic Horsemanship program alongside my own Veterinary Clinic that would allow me to give back to the community that has helped shape me into the person I am today.
Much love,
Sarah Beth
2021 SCQHA Queen
Click to visit the SCQHA Queen Facebook Page